Macroday: Light
RGB Mountain Range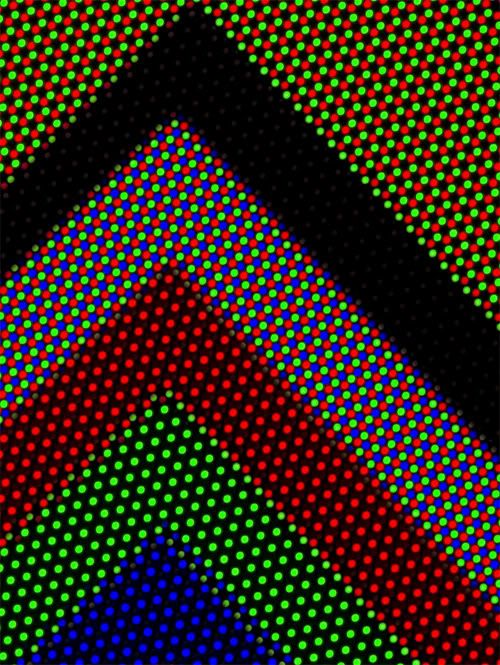 Canon 20D, Tamron 90 mm macro f/16 1s
This macro image is all about light; it shows a small region
of a CRT computer monitor. The shape and arrangement
of pixels is different than on the LCD monitor shown
in yesterday's post. I find the CRT more aesthetically
pleasing: I like the polka-dot appearance of one-color
regions, the ring patterns in two-color areas, and the
mosaic pattern in three-color areas.
I also enjoy the fact that the appearance of the monitor
in the macro image is qualitatively different from its
appearance to the naked eye. Areas with R, G, and B
pixels fully on appear pure white to the unaided eye,
with no hint of separate red, green, and blue. Regions
with R and G pixels on and B off are seen as pure yellow.
Wereas the individual pixels are easily seen in the
macro image, they are too small to be distinguished by
the naked eye looking at the monitor, and nearby pixels
blur together, in essence mixing together the colored
lights. The colors produced by mixing R, G, and B lights
may seem strange. As I mentioned yesterday, mixing
lights is different from mixing paints. In light mixtures,
red + green + blue = white, and red + green = yellow.